Trending...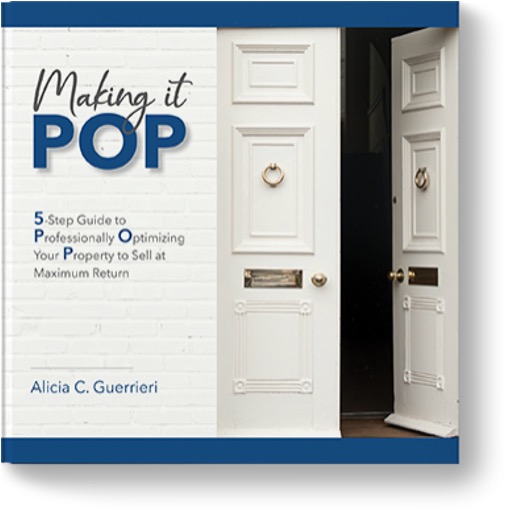 PHOENIX
-
Arizonar
-- When it comes to selling properties for more, there are definitely secrets that both homeowners and agents alike can cash in on. That's where "Making It POP: 5-Step Guide to Professionally Optimizing Your Property to Sell at Maximum Return
"
(makingitpopbook.com
), the systematic approach to preparing any home, comes into play. The book, written by seasoned property optimizer Alicia Guerrieri, acts as a simple guide to enticing buyers to visit, fall in love and, ultimately, make offers worth accepting.
The book provides an outlined methodology that's easy-to-follow and culminates with the selling of a true vision. This method, called "POP," (
P
rofessionally
O
ptimized
P
roperty), is a simple 5-step system that, when followed, produces properties that are ready to wow and draw in prospective buyers. Ultimately, the result is a faster sale at a much higher dollar value.
More on The Arizonar
Even better, the methodology has been proven to be successful, whether with smaller properties or multi-million dollar homes.
"By following the suggested secrets outlined using the 5-Step POP method, my client and I were able to get the home under contract at our asking price," said Pat S., one of Scottsdale's luxury agents.
Likewise, others that have used the new methodology have seen equally amazing results, including homeowners and agents.
"By using the POP method, and to say Alicia has performed an outstanding transformation of the house to achieve our sale, is 110% accurate," said homeowner Martin L. "She knows what most impresses potential buyers, and gives the home the WOW Factor."
The book is a reference primer to be used each time a property is listed for sale, and can be purchased on
Amazon.com
. Version 2.0 will be available in Q1 2021 with updated photos, unique tips, and a chapter devoted to preparing a property for sale with a list price over $1 million.
More on The Arizonar
Homeowners, agents and stagers can also
become certified in the POP methodology
through a dedicated 2-hour online training course, which includes a paper copy of "Making it POP."
About iSearchDecor and Alicia Guerrieri
iSearchDecor is a real estate concierge company that has successfully assisted hundreds of local luxury realtors (and their clients) with professionally optimizing their properties through the
POP methodology
.
Alicia Guerrieri began her business of optimizing properties in 2010, and has been a consultant for preparing over 5000 properties for sale. She is an expert on how to maximize a homeowner's return on investment, and combines her keen eye for detail with her logical, financial acumen to produce maximum results.
Source: iSearchDecor, LLC
---
0 Comments